I figured I'd give this web page stuff a try! Learn more about me, updates on things and pictures!
PIERCINGS
For those of you who know me you must know that I have 12 piercings by now-and you know where too! I'm hoping to be added to the link at the bottom (part of the webring) so you guys can learn more about piercings.
My Favorites
Favorite Band or Musician: Pink, Madonna, Eminem, TLC
Favorite TV show: The Simpsons, That 70's Show, Reality Shows
Favorite movie: Enemy of the State
Favorite book: anything by Dean Koontz
Favorite sports team: Toronto Teams All the Way!!!
Favorite food: Won't Go There
My Hobbies
I love writing poems, and reading. I listen to music all the time, if not the stereo then I have my discman or walkman. I also love going to the gym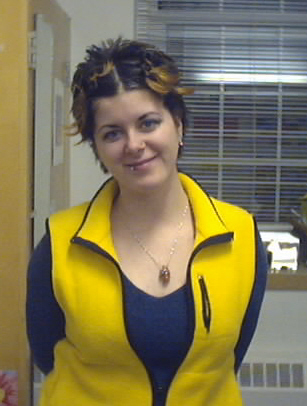 Most Admired
My mom, friends
MY PIERCING STORY:
I got my first piercings (ears) done about 4 years ago. Two weeks later or so I got my nose done...from then on, piercing was almost an addiction to me for bit. I got my upper cartilege done in my ear, then I got my eyebrow done, then my tongue a few months later (X-mas gift from my sister in law-awesome gift!) It was then a short time before I got my next piercing-my navel, the nipples came a few weeks after. Just had to have a few more holes, so I got another set in my ears, and the last one to date (about a year ago) is my lip. I want a few more piercings, and will probably get them in a few weeks. My fave piercings are my nipples, although the tongue is pretty good too:) Actually, who am I kidding, I love them all! :)
I personally recommend giving it a try if it's on your mind!